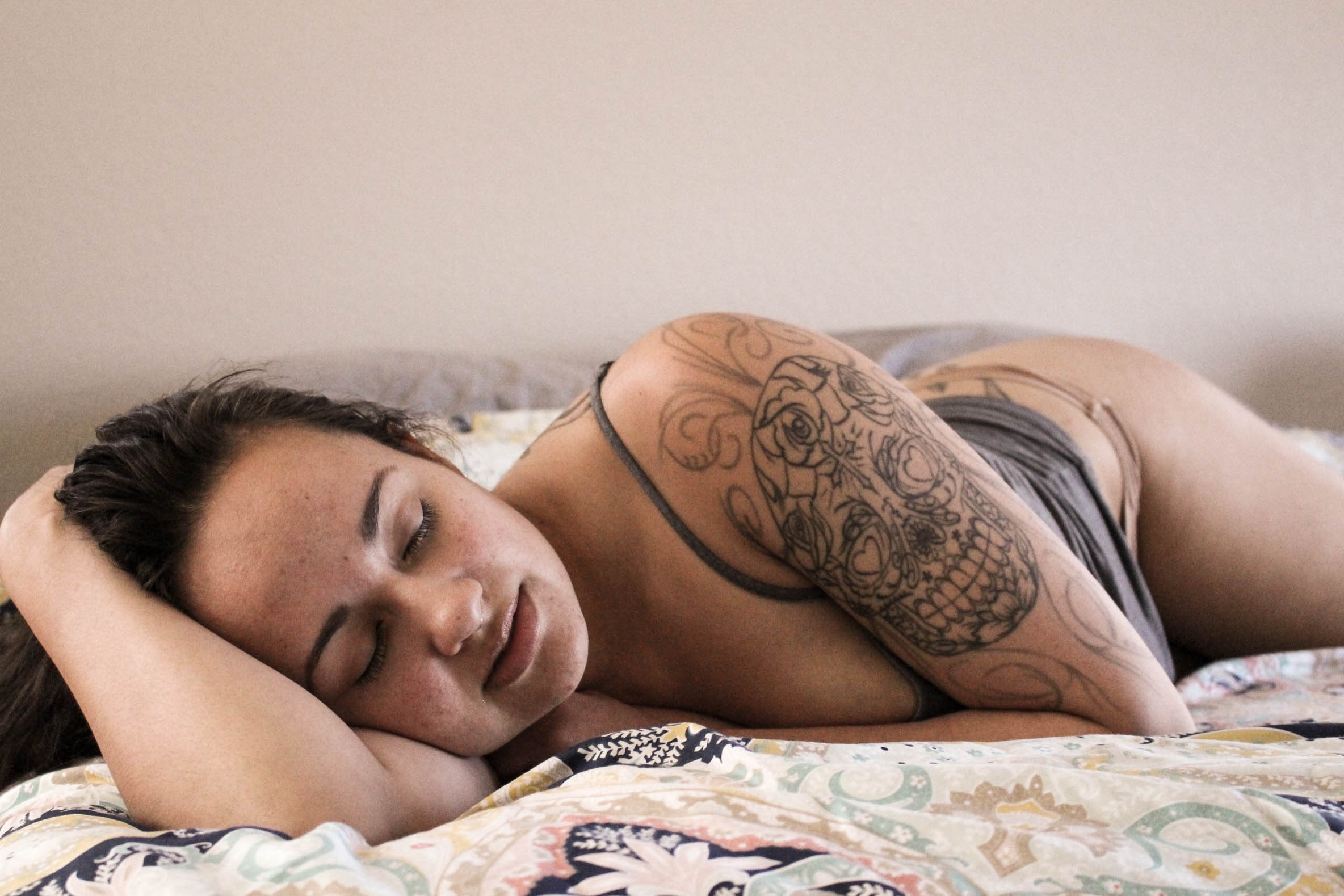 Artist Statement
My work as a creative writer depends on my ability to successfully tell a story. In our contemporary climate, photos and words are often illusions, shared with ease and excess, to inspire instant gratification online or on social media. It is my goal to mindfully manage the delicate art of curating words and photos that tell real stories—stories that shake hands, laugh, and cry. When I photograph a model, I understand that they are coming to me with a great deal of trust. It is my responsibility to capture their story honestly. I highlight parts and functions of the body that are often shamed, or altogether hidden, for appearing too real. I capture the stretch marks, scars, body hair, wrinkles, blood, sex, and tears—the stuff that lets a viewer know that they are looking at a photograph of a real human person with thoughts and feelings and shit to say. Is This Real Life Contribution I shot fourteen models over fourteen days. Before shooting, I asked my models to reflect on whether there was a story on their body that they wanted to tell through the photos. One model sat naked in tall grass hugging herself and caressing the acne scars on her back, which she wanted me to capture. "Close your eyes," I told her, "breathe through your mouth and take a moment to be with your body and thank it."
Another model told me that the thing she has felt the most shamed for in her life is her voice. We put red face paint on her palm and she stamped her throat with a scarlet handprint to represent her pain of being silenced. I went outside and adventured a little for this project. Climbed trees, stole flowers from the side of the road, walked along the tops of trains. A highlight was stumbling upon a beautiful twig hut in the woods. Six women met me there for a seance-inspired shoot. We were mostly strangers when we arrived dressed in varying degrees of anxiety. As the shoot progressed, models peeled layers of clothing and nervousness from their backs until everyone was holding hands with their heads thrown back and their mouths wide open laughing and dancing in a circle. I witnessed an unraveling of ego as these women remembered the children they once were and shared love with themselves and those beside them freely.
Annabelle Fern Praznik Writer + Photographer annabellefernpraznik.com
Is this real life was a 2017 project which aimed to challenge beauty and pornographic standards by highlighting people of all genders and stages of life in their raw and open beauty. We had people from all around the world contribute their words and photographs via Instagram.
The Stoned Chrysalis was then lucky enough to connect with U.S based writer and photographer Annabelle Praznik who embarked on this incredible photo series.
You can find more of Annabelle here annabellefernpraznik.com / @annabelle_fern